We're looking forward to having you compete in the Rice Business Plan Competition! Before accepting the invitation, please make sure to check out the rules and format documentation to ensure you're able to compete. All set and ready to go? Please check out the rest of our resources and information to ensure you're setup for a successful virtual competition. 
This page will be updated regularly with more materials as we get closer to the competition. 
Optional Executive Summary and Template
Using this template is not required for the application, but it does give you an idea of what information to include in your executive summary. Application screeners will pay most attention to the executive summary part of your application.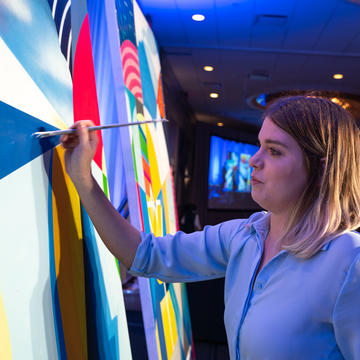 The Rice Business Plan Competition is a unique and potentially life-changing event, rich in opportunities for learning, discovery, friendship and both personal and professional growth. Let us work together to make the RBPC the most impactful, positive and amazing experience for all participants. Read more about our values and code of conduct.
How To Info and Details for RBPC Competitors - Coming Soon!
The 2021 competition was virtual. Below is more information for past competitors. Please check back soon for updates on what you need to create, if you're accepted into the 2022 in-person competition.
One person only on video

Limit of 60 seconds

No demos of your technology, just you talking

No power point/Google slides can be shown in place of the person pitching, but you can have a static slide in the background if you like.

A laptop webcam, tablet or smartphone can be used to record your presentation. If you use your smartphone, please record horizontally.
The preferred resolution is 1920 x 1080 at 30 fps (frames per second), but this is not required.
Resolution and frame rate information can be found in your device's manual/online.
Set up your camera in a quiet space, so your audio can be heard.
Make sure your recording device is stable and positioned at eye level. You can use a stack of books to raise your recording device to the appropriate height.
Position yourself in the center of the screen and not too close to the camera. Proper framing should be from the waist up.
Areas with plenty of natural light are ideal for filming, but please avoid recording in front of a window.
Clear your background of any clutter.
Please do not use props, slides, a podium, or any other materials.
When you're ready to record, press the button, look at the camera, wait three seconds, and begin speaking. Your elevator pitch can be 60 seconds.
When you are finished with your presentation, stop recording immediately.
Please note the location where you saved your file, as you'll need to find it for submission.
Please save your file as "YourStartupName_EPC.MP4" An .MP4 is the most common video file type. It is preferred, but not required. Most modern file formats will suffice. If our video partner is unable to convert your file, we may contact you.
Before submitting, play back your video to ensure the recording captured your full pitch. Listen to ensure you were loud enough and the recording didn't pick up background noise.
Upload all elevator pitch video files to the Box drive listed in the application.

Log in with email and code (sent to you by email from the RBPC Director) to access/create your account
Click on Create New Company
Answer the basic questions about your startup, and click on videos for help
Go to Create Plan to get started.
Click on Pitch in the top-most bar menu. These are the only pages you will create for the RBPC event program. Fill in as much as you can! This is what all the judges and investors will see during the competition. Each team's pitch will be two pages in the event program.
Click on View or Edit to start filling in the sections. In Edit, there is a left-hand menu were you can see all the options for information to add to your pages.
Click I'm Done to save your work as you go.
Click on View to see your pages as you are working.
***Please complete the Team and Key Roles section, and add startup member contact details (email, website, etc.). This is the best way for interested people to contact you during and after the competition.***
You can click Publish to get a link to see your pages. You can click on "View your secret web page" to see what it looks like, and that all your info has made in onto your pages.
If you want to make changes to your pages after you click Publish, click Stop Publishing My Pitch to continue working. There is also an opportunity to publish your link again after edits with a Republish prompt.
When you have finished your pages, and are content with how they look, click Publish on the top menu. You will get a link to your pages; put that link in your application (https://rbpc.poetic.io/sign-in under Live Plan link)"

| Date | Time | Event | Format |
| --- | --- | --- | --- |
| Mar 29 - Apr 1 | 1: 00 - 4:00 PM CDT each day | Practice Round and Tech Checks | Run through your pitch with a group of judges who will offer feedback and pointers on how to present you best at the RBPC. Consider this a dry run. (10 minute pitch, 20 min of feedback). This is also your opportunity to log on to Zoom and test your tech (audio, video, screen share, etc. |
| Friday, April 2 | TBA | Panel | Making the Most of the RBPC - Find out how to use the competition to your advantage! And have your last-minute questions answered. |
| Tuesday, April 6 | 4:00 - 5:15 PM CDT | Elevator Pitch Competition | Pre-recorded and webcast at 4:00 PM. You will submit a 60-second video pitch to be included in the overall pitch contest. Please watch the Elevator Pitch Contest! |
| | 5:15 - 6:00 PM CDT | Showcase | All startups will be present in our virtual Company Showcase. Be prepared to answer questions, talk about your startup, meet the judges, and make contacts! |
| | 5:30 - 6:30 PM CDT | Networking | All judges and startups are invited to network in topic-specific virtual rooms. |
| Wednesday, April 7 | 9:00 AM - 11:30 AM CDT | Round 1 | All startups compete in Round 1, in 9 sector-specific flights of 6 startups each. Pitch for 10 minutes followed by 10 minutes of Q&A with judges. |
| | 12:30 PM CDT | Semi-Finalist announcement | The two top-scoring startups from each flight (18 startups), will advance to the semi-finals. |
| Thursday, April 8 | 9:00 AM - 11:30 AM CDT | Round 2: Semi-Finals | 3 flights held concurrently with 6 startups in each. Flights are not sector-specific. Pitch for 10 minutes followed by 10 minutes of Q&A with judges. |
| | 12:30 PM CDT | Finalists announcement | The two top-scoring startups from each semi-final flight (6 startups), plus the next-highest scoring startup of the 3 flights, will advance to the final round (7 startups total!) |
| Friday, April 9 | 9:00 AM - 12:00 PM CDT | Final Round | 7 startups compete! Pitch for 10 minutes followed by 10 minutes of Q&A with judges. Expect about 100 judges! |
| | 1:30 PM CDT | Awards Presentation | Stick around to see who won! |

Check out the What to Expect at the RBPC: Judging and Scoring Criteria guide to see how the event will run, guidelines for each part of the competition, how startups are scored, and what questions to expect from the judges! Pages 7-9 of the guide offer the most insight on how to prepare for the RBPC.