RBPC judges come from a wide range of sectors, and a number of them are investors. They are a critical component of the business plan competition by providing feedback to competitors in real-time and ensuring a fair and well-run competition.
The RBPC is unique in its stature, size, format, participants—and most of all, the quality of its judges! RBPC judges act as (and often are) early-stage investors, evaluating startups' investment potential. Thank you for all you do to support student entrepreneurs.
The 2023 RBPC will be held in-person at the Jones School at Rice University on May 11-13. For an overview of judging at the RBPC, please see the Details for Judges menu below,which will be continually updated as we get closer to the competition.
If you are new to the RBPC and would like to apply to be a judge, or know a good candidate to be a judge, please fill out this form.
For 2023 Judges
All judges will receive their personal invitation to judge in early March. Please make sure to register yourself for the competition at that time. If you do not register, you'll not be provided access to the event platform. Thank you for the time you're committing—we appreciate your expertise and efforts to make this year's virtual competition a success.
Judge Resources
All the info needed to judge the RBPC!
The short version: Judges score each startup on their investment potential.

The long version: What to Expect at the RBPC--please familiarize yourself with the Instructions and Guidelines to get ready for April 7-9!

Travel

Houston is served by two airports--Intercontinental Airport (IAH) and Hobby Airport. IAH is about 45 minutes from the Rice University campus; Hobby is about 20 minutes. Please use a ride share, taxi, or airport shuttle from the airport to Rice University or the Intercontinental Houston - Medical Center hotel. There is no reliable and quick public transportation.

Accommodation

All startups are encouraged to book their hotel stay at our conference hotel--the Intercontinental Houston - Medical Center. We have a conference rate there of $179+tax per night.

Book HERE or contact the Reservations Department at 713-422-2779 or toll free at 888-465 4329 and identify yourself as guests of the Rice Business Plan Competition 2022 in order to receive your special group rate.

The guest room cut-off date has been extended to Friday, March 18.

Shuttle to RBPC

The conference hotel is less than 1 mile from Rice University. A shuttle from the hotel to Rice University campus will be available each day of the RBPC to get you to and from the event. Shuttle schedule is HERE.

Please check the detailed schedule HERE, and check back for updates.
Judging Schedule at the RBPC
2023 schedule coming in December (and will look a lot like this)
Day and Time
Event
Description
Thursday, April 7
2:00 - 5:30 PM
Practice Pitch
Get a sneak peak of the competitors; watch the startups pitch for 15 minutes and give feedback in this crucial session for startups preparing for the competition (not scored)
Thursday, April 7
6:00 - 7:30 PM
Elevator Pitch Competition
All 42 startups give their 60-second elevator pitch before 200+ judges! Judges rate each pitch.
--Followed by Company Showcase and Reception
Friday, April 8
8:30 AM - 4:30 PM
Round 1
Round 1 of competition + Feedback session
--Followed by Semi-Finalist Announcement and Reception
Saturday, April 9
8:00 - 11:00 AM
Semi-Final Round and Wildcard Round
15 startups compete in the semi-finals for 6 spots in the finals, while 27 startups compete in the wildcard round for one spot in the finals
Saturday, April 9
Noon - 4:00 PM
Final round
Watch the top 7 startups pitch to win!
--Followed by the Awards Banquet 6:00 - 9:30 PM)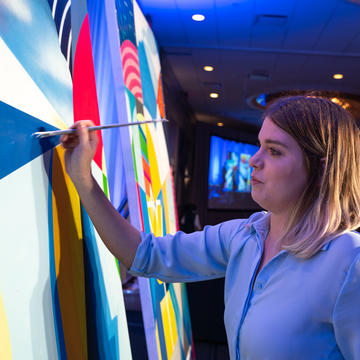 Values and Code of Conduct
The Rice Business Plan Competition is a unique and potentially life-changing event, rich in opportunities for learning, discovery, friendship and both personal and professional growth. Let us work together to make the RBPC the most impactful, positive and amazing experience for all participants. Read more about our values and code of conduct.
We are committed to fostering an environment that is inclusive and nondiscriminatory. Judges' evaluations should not be influenced by race, gender, sexual orientation or national origin. We expect all judges to treat all participants respectfully and equally and be conscientious of their biases.